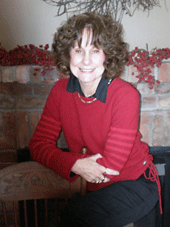 My 35 years of ballet training, the modern dance studies and a career working with disabled individuals have greatly influenced my poetry. For years, I have read my work on CBC Radio, and at various schools and venues throughout Ontario and Michigan. Published in literary journals and anthologies, some of my poems can be found in Whetstone, Kaleidoscope, Windsor Review, Quills Magazine, and by Black Moss Press, Leaf Press, Cranberry Tree Press (including "Delicious"- 2008), and in The Saving Bannister (H.M), The Canadian Authors Association, 2008. I am one of the "Five Poets" presented in both A Thousand Yellow Leaves 2004, and most recently, Tongues of Whitewashed Stone, 2008.
"Falling" was published in Tongues of Whitewashed Stone: Works by Five Poets, (Cranberry Tree Press, 2008).
© 2008 Karen P. Ouellette
Falling

When robins fell
from pine nests
you tried to save them all;
wrapped
the quivering mass
of May-feathers
by a worn-white stove:
eye-dropped
the warm milk-bread
into tight beaks,
your kitchen lullabies
staying like the night...
But they died;
they always died
and you dried our tears
with tiny funerals
beneath the evergreens.
When we fell ill
in winter,
you cooled our fevers
with alcohol rubs,
kisses and Vernors-floats;
tucked us safe
between crisp white sheets
and pages of Hans Brinker,
at midnight—
your slippers pacing
bedroom floors.
And some of us survived
to remember your care,
the snowbirds in the pines
and the soaring blades
of children.