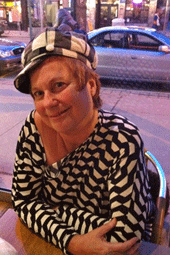 ---
Look what's happening:
Cheers for Jude Neale and Daniela Elza, who both were short-listed for the Magpie Poetry Award.
Master poet and teacher Patrick Lane will be in town to help us celebrate two chapbooks of poetry written by participants at his Honeymoon Bay retreat. Wednesday, July 16, 7 to 9 p.m. at The Globe Bar and Grill, 25 Front Street in Nanaimo. Mary Ann Moore will read along with Ann Graham Walker, Chelsea Comeau, David Fraser, Heidi Garnett, Leanne McIntosh, Liz McNally, Martha Royea, Richard Osler, Somae Olser, Wendy Donawa, Linda Thompson, Tina Biello and several other poets.

Calls for Poems:
We have an ongoing call for Monday's Poem. Please check the guidelines page.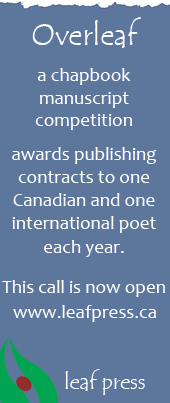 Receive news and future calls for poetry:



---
Review Excerpts
Fishing for Mermaids:
"Moore's writing celebrates the joyously human and the mythological too …" Dennis E. Bolen in the Vancouver Sun. Read the whole review here.
Unearthed: "Janet Marie Rogers: sharing her gutsy, realistic, and inspirational voice for First Nations people on either side of the 49th Parallel (for those who believe in such a thing)." See Garry Thomas Morse's Geomantic Reposte here.
A Quiet Coming of Light: a Poetic Memoir: "(Check out the leopard-print lingerie poem.)" Read the review by Susanna Braund in the Bowen Island Undercurrent here.
---
Awards
Emilia Nielsen's Surge Narrows was short-listed for the 2014 Gerald Lampert Memorial Award by the League of Canadian Poets.
Adrienne Gruber's chapbook Mimic won the 2012 bpNichol chapbook award.
Jude Neale's Only the Fallen Can See was long lisited for the 2012 Relit Awards.
Kirsty Elliot's True was short-listed for the League of Canadian Poets 2012 Gerald Lampert Award and long-listed for the 2012 ReLit Awards.
Tina Biello was shortlisted for the Bressani Prize at the Vancouver Italian Cultural Centre for Momenti.
Susan Musgrave and Leanne Boschman were short-listed for the ReLit Awards for their Leaf titles.
Susan Musgrave's Obituary of Light was short-listed for the CAA Award for Poetry.
K. Louise Vincent's The Discipline of Undressing long-listed for the ReLit Awards
Kim Goldberg's Ride Backwards on Dragon shortlisted for the Gerald Lampert Award.
Allan Brown's Imagines co-winner of 2009 bpNichol Chapbook Award.
---
Salish Artist Chris Paul,
our logo designer
www.chrispaul.ca
---