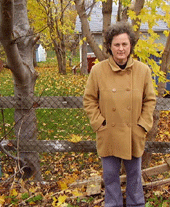 I am a teacher living in St. John's, Newfoundland. I have been previously published in various magazines and the poem "Anchor" was inspired by many beautiful outings in the boat with my siblings on lakes in northern Ontario. I had a particular fascination for dropping anchor.
© 2008 Joan MacIntosh
Anchor
Dropping anchor
is the job of the person
at the bow, that's where
the stone-filled
paint bucket lies,
on a bed of
prickly rope.
Cast over the
bow's lip,
the rope hums
an urgent friction, until,
lake bed reached,
the line falls quiet.
Later,
hauled up anchor
dangles
a kelp bouquet,
as though
the pail clung on, reluctant,
to forsake the
silken lake bed,
swaying pickerel,
luminous boat bottom,
above,
endlessly orbiting.