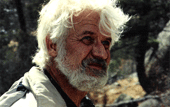 James Tipton lives in Chapala, in the tropical mountains of southern Mexico. His latest book, Proposing to the Woman in the Rear View Mirror (Modern English Tanka Press, 2008), a collection of haiku and senyru, has just been released.

Link: Modern English Tanka Press
"So Many Times I Have Felt the Sea Rising" is from Letters from a Stranger, with a foreword by Isabel Allende (Conundrum Press, 1998), which won the 1999 Colorado Book Award in Poetry.
© 2008 James Tipton
So Many Times I Have Felt the Sea Rising

So many times I have felt the sea rising
in my heart, when in my hands
I hold your letters, like singing nets of words
lifted out of some blue solitude for me alone.

So many times again I open your golden letters,
reading them to bees, to canyon walls,
to tiny lizards that dart like thoughts
through these deserts of perpetual loneliness.

So far away, so far, I felt, wanting to live at last
with only spirits, but oh, dueña del amor,
the feather I found, fallen from the angel's wing
means nothing to me now.
---

James Tipton's work is widely published, including credits in The Nation, South Dakota Review, Southern Humanities Review, The Greensboro Review, Esquire, Field, International Poetry Review, Christian Science Monitor, Quaker Life, Mountain Gazette, American Literary Review, El Ojo del Lago, Lake Chapala Review, Living at Lake Chapala, and Mexico Connect.
He is also included in various anthologies and other works, most recently Aphrodite, by Isabel Allende (1998), Bleeding Hearts, edited by Michelle Lovric (1998), The Geography of Hope, edited by David J. Rothman (1998), and The Intimate Kiss, edited by Wendy Maltz (2001),Charity, edited by Rosemerry Wahtola Trommer (Red Rock Press, 2002), Hope, edited by Sophie Elise Lalazarian (Red Rock Press, 2003), Haiku: A Poet's Guide, edited by Lee Gurga (Modern Haiku Press, 2003), Readings for Weddings, edited by Mark Oakley, Vicar of St. Paul's (Society for Promoting Christian Knowledge, 2004), and Erotic Haiku, edited by Hiroaki Sato (IBC, 2004), Mariposario, edited by Berónica Palacios (Ediciones Papalotzi, 2007).
His work has been translated into various languages: Spanish, Italian, German, Portuguese, French, Chinese, Japanese, Polish, Danish, and Norwegian.
---