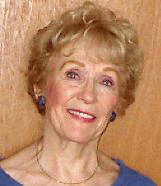 Irene Livingston has been published in Canada, U.S. & abroad. She's received many awards for her writing. She has written a novel as well as short story and poetry collections — her Finklehopper Frog & sequel were published by Tricycle Press.
"Naked in a Glass-Blue Boat" won the Leacock Award for Poetry in 2001

Link: Author's website
© 2007 Irene Livingston

Naked in a Glass-Blue Lake
Sun turned bronze-emerald, glints off
the faces of August leaves, the year and I
each approaching our Septembers. I bike-fly
down the hill of this sensuous, tree-blessed street,
this street that zips open my eyes
and kisses all the hungry places under my skin.
Gliding beneath canopies of birches, my thoughts
go tumbling backward like the scurrying leaves
that breeze up behind my wheels.
For too long my edges were flattened,
corners sanded down by buzzing false joy of wine,
the satin steel-wooliness of opiate,
each promising nirvana, only to chew ragged
holes in my life through which hours, days, years
leaked out, a trail of detritus strewn in my wake.
Now I strive to seal the holes. No more precious time
must drip away, unused, squandered, gone.
Now it all roils around me: times of laughter and anger,
of sweet love and massive hurt,
of generous thoughts and bitter musings.
Life rubs against my corners, edges, bumps.
Life goes in and out through my porous skin. I feel
what is here to feel, sour pain and delicious pleasure.
But sometimes, in the long-cloaked night, a voice
steps from black cotton shadows, lips quietly into my ear:
You are old. There is not much time.
No! No! my heart keens. No! How did I get old?
I need more time; more time to learn life.
To read more books, to groan once more
under the hands, mouth, rough-gentle body of a lover.
I need a million more springs, to touch, with my eyes,
tender young leaf buds, to be a voyeur
at spring's seduction-into-being of wine-red tulips,
morning-yellow daffodils. Eternities more twilights
to gasp at slanting streaks of coral sunset,
washed down with rivers of sapphire cloud.
I need time to swim naked in a glass-blue lake,
plunge parachuted from the sky,
become insanely rich, play a guitar,
plaintively and movingly, speak fluent French
or Zulu, learn the names of all the vari-colored
trees in the world, bike-climb more hills
and hurtle down others, the wind roaring in my ears,
manhandling my skin, my teeth howling with rapture.