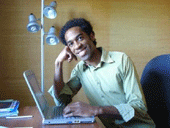 Ian Williams is a founder and editor of Misunderstandings Magazine. His recent writing has appeared in Carousel, Contemporary Verse 2, The Dalhousie Review and Descant, and he has held a residency at the Kimmel Harding Nelson Center for the Arts in Nebraska. The poem, "V" is a winter haiku/tanka.
© 2008 Ian Williams
V
I
Vicarious
See how cold it is.
Trees tap the window and snap
back, burned by hot glass.
II
Vacillate
Where's the fire? Your ex
tinguisher's sputtering foam.
Let the forest burn. Just
delay a little. Go late.
Please stay but stay over there.
III
Virgin
What word will keep you?
need love yes sick also no
no no no no no
IV
Vandalize
Outside a man leans
on his shovel and watches
cars with white mohawks
brake. So much ice, punk snow ploughs
brake. Wires, branches break. You won't.
V
Visceral
Minor muscle sprains
and swollen parts call for ice.
Never heat the heart.