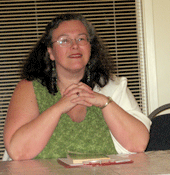 Heather writes when she's not teaching writing to generally reluctant readers and writers in high schools. Still, she writes. Home has become an idea rather than a concrete place, an idea which is currently moving. When her husband Bernie is with her, she is home. They have three great grown-up children and a lot of books, paintings and pottery which some day will again have a living room, a fireplace crackling, and cups of tea. In the meantime, she is close to her parents, who are now older and like having their six kids around them.

© 2008 Heather Cardin

Still

Stillness at centre of the wind
stretches even the most experienced
of sinners. Everything sudden:
anticipation, force, duration.
Then the quiet nucleus for all
the waiting whispers.
Collections are not things,
but flesh. Better than a bird
fetching you back is the same one
upon your shoulder. Wings folded,
the pulse in a sparrow's chest.
They say St. Francis was a nest.
They say his song could be heard
even in silence. Even in wind.
The pipes called, invisible
scattering angels called.
You can fly, they say, even
when anchors rust into sub-
terrain streams, when you are
centred in the eye.
There are no hurricanes,
just lashings tearing at green rope,
the coil of hay in a field
where truth hunches over
a feathered saddle in wind.
This being torn. This being.