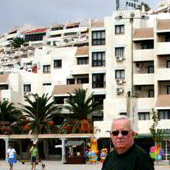 Glen Sorestad is a Saskatoon poet with a decided penchant for travel: earlier this year he was in Costa Rica and now he has just returned from Portugal. His latest poetry volumes are Language of Horse (Coracle Press, 2007) and Halo of Morning (Leaf Press, 2006).
© 2008 Glen Sorestad
The Way It Is with Cars
Of course, you know at or before age sixteen
your children will clamour, apply, get tested,
receive, and if you're lucky, perhaps even
pay for - that first driver's licence.
This is a given in our motorized world.
And you may even have come to realize—
if indeed you ever give it a thought—
that once they had that small, essential
piece of ID they would then expect
not only to drive, but also to borrow
the family car at will and on any excuse,
especially if you were not prepared
to buy one they could call their own.
But it isn't until you watch that vehicle
roll away for the first time, away
from your driveway that the tsunami
of epiphany almost sweeps you
out to sea. As the family car fades
from sight your child has begun to move
away from you, away from the safety
and security of the home that has
grown around you all, away to a world
of uncertainty, a world of independence
in which your voice will become fainter
and fainter as the car and your child
move slowly and inevitably away.