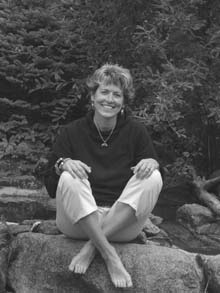 [Click] Photo
Susan Stenson's work has appeared in several magazines, on CBC radio and in the anthology Threshold: six women six poets, edited by Rona Murray. She won first prize in the League of Canadian Poets National Contest in 1999 and the Hawthorne Poetry Award in 1997. Her work is also featured in the Poetry in Transit program. Sono Nis Press published her first book of poems, Could Love a Man, spring 2001. She lives in Victoria with her family.
Monday's Poem
© Susan Stenson
A Father's Diary
for Brian, Mbabane, Swaziland
You wear this scarf for your father
who died last winter because you believe
you could never love like that: his part,
one diary, slow, diurnal offerings bound
with leather in soft-penciled serif. Each day
recording your mother's outfits, hose and
wool skirt, red blouse, earrings, pearls,
so he wouldn't embarrass her by forgetting
what she had worn the day before. A man
like that. A story you are telling everyone,
because you can hardly believe it yourself.
Your mother cannot say what has brought you
to her side at the home today, dressed like a woman
waiting for a lift to town, grocery list folded
in her lap. And you cannot tell her
what it means to love. Some days so good
for nothing. Walk the hills behind the house
like a man repeating what he must remember:
desire has so little to do with the heart.
Step carefully on these stones beside the rain
flowers and baboon blossoms, the aloe so bright
at dawn they catch you off guard, fiery messengers
in such faint light stunningly prostrate at your feet.