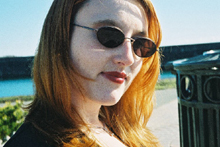 Photo: T.G. Morris
M.J.L. Evans resides in Victoria, British Columbia, Canada. Her literary and artistic credits include Illustration Winner for "Fireworks" (2002) and "The Green Faerie" (2003) in the Victoria School of Writing Illustrated Postcard Competition, and fiction & non-fiction stories published in local Victoria magazines. Other credits include the publication of her pieces "Of Phantoms and Fathoms" and "The Green Faerie" in the on-line magazine, Fireworks in Toronto, Ontario, Canada, and the conceptual design/editing of publications for the 2002 Leonard Cohen Tribute in Victoria, British Columbia. Megan acquires story inspiration from interest in fine arts, art history and various travels to Great Britain and Scotland. Her style intermingles surrealism with the preternatural while her primary genres include thriller, suspense, and drama.

© M.J.L.Evans
Absinthe Dreams
As the enchanted liquor seizes its prey,
It propels all thought and time astray.
Curios of silver and gold,
Such exquisite sights to behold.
Drinking…
Dreaming…
Hearts are beaming

Anise of black and illusion of jade,
A continuum of colours is constrained.
Beauty and beast are combined,
Inspiring the feverishly fervent mind.

Glowing…
Showing…
Ink is flowing

Bitter wormwood dark mystique,
Herbal glory strained till sweet.
Green fairies dancing round
The hearts of artists to be found.