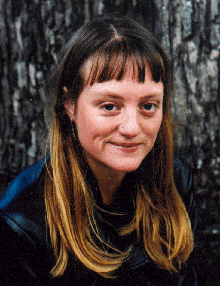 Photo: Jason Mills
Lauren Carter lives and writes in Orillia, Ontario. Her poetry, prose and articles about social issues and adventures far afield have appeared in Grain, Prairie Fire, The Danforth Review, CV2, Event, NOW Magazine, Adbusters, THIS Magazine, The Globe and Mail and a number of other publications. She is currently seeking a publisher for Lichen Bright, her first collection of poetry, completed with the help of an Ontario Arts Council grant. Dogs, a good hike, and her brother's sense of humour are some of her favourite things. She can be reached at: laurencarter@sympatico.ca
© Lauren Carter
Rosetta
In the wind I found a promise:
useful for twisting,
dismantling
things for repairs —
sticky gears,
bones that are bruised,
a life
stopped at a wall.
One whole day of wondering,
questions
scratched like grooves on stone.
I am stilled. Caught
between intentions,
autumn when the snow won't come,
spring still lit by winter.