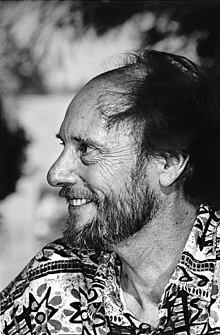 [Click] Photo by Danielle Schaub

John Pass lives with his wife, writer Theresa Kishkan, near Sakinaw Lake on B.C.'s Sunshine Coast. His most recent book of poems, Water Stair (Oolichan, 2000), was shortlisted for the Dorothy Livesay Award and for the Governor General's Award. "They Think It's Spring" is from John's Leaf Press chapbook nowrite.doc.
© John Pass

They Think It's Spring
Those flapping exuberant crows lifted
from the cedar tops in October's first serious wind
roll and swoop and fall back into foliage, playful, willing
in the air's big hands. And tonight on the roads
frogs leaping in wet joy all over the asphalt are tipped
in the balance of temperature and daylight into high-jinks
not hibernation. Tricked! They think it's spring!
Twenty-years married I'm hurrying home
to pull you towards me by the belt-loops
of your green robe, losing and gaining and losing
again in the upstart knees
-up season, a grip
on your hips, a whiff of your hair.