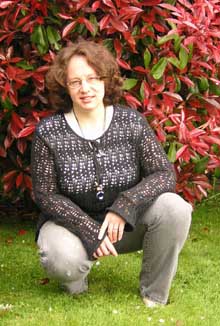 Photo: B. Beese
A lifetime Vancouver Island resident, Jennifer grew up in Lantzville and currently lives in Nanaimo. Married for thirteen years, Jennifer and her husband are the parents to two boys, on the verge of teendom, and a little girl.
Her poem, "Vision of a Memory" placed third for poetry in the 2004 Bard's Ink Writers Contest. An untitled poem and "Coffee Break" are published online at Poets Against the War.

© Jennifer L. Pierce
Been Read Before
Glancing through a book,
cache from the closing out sale
of a favourite shop,
I note the sentences,
the paragraphs,
highlighted in yellow.
Canary songs
that grab my mind.
Passages important
to someone else.
And when I read
this book,
what will stay in my mind?
What I conceive?
Or yellow words?
The pen ran out.
They underlined in blue.