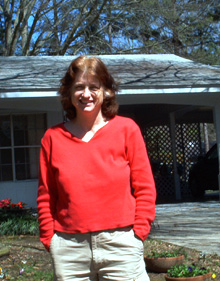 Ania Payne Photo
Diane teaches writing
at a small university deep
in the Delta Bible Belt, where she is faculty advisor of the literary magazine The Foliate Oak.
Her first novel, Burning Tulips, was published by Red Hen Press. www.redhen.org
© Diane Payne
At the Count of Ten
When I say ten, think of red.
One, he always volunteers in my classroom.
Two, my students think they're hypnotized.
Three, one hour passes with everyone quiet.
Four, he's such a nice man, I hope this works.
Five, this reminds me of high school. Pretend or not pretend?
Six, I pretended. They applauded. Felt foolish.
Seven, there's no way I'm pretending I have my period.
Eight, glad he's not charging me for these sessions.
Nine, tells me I owe him ten blank tapes after period begins.
Ten, think of red? Red. Red. Red. Red. Red.
After we finish our session, he gives me a tape
of his voice leading me into menstruation.
I listen to it in bed with a glass of wine.
Then I listen to it without the wine. The background
sounds like water dripping. Bloody water?
At the count of ten, think red.
Every week I return to his office.
He says I have a cold body temperature.
Hooks me to a biofeedback machine. No period.
Let's try hypnotism again.
When I stand up, I'm disappointed
there's not a puddle of blood on my chair.
He tries so hard. Such a nice man.
Six months pass without a period and I visit
my physician. He puts his gloves on, inserts
his finger, shows me bloody glove and says,
"You should have sex more often."
The next day I bring the hypnotist
a box of blank cassettes.
Relieved, he smiles.