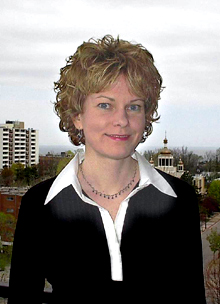 [click] Photo: Kristan Graham

Catherine Graham, author of the acclaimed chapbook, The Watch, lives in Burlington, Ontario, after living in Northern Ireland for many years. Her poems have been broadcast on BBC Radio Ulster and anthologized internationally; She is included in The White Page/An Bhileog Bhan: Twentieth Century Irish Women Poets. She holds a Masters' degree in creative writing from Lancaster University in England and teaches creative writing at the University of Toronto, McMaster University and Centauri Arts. Catherine's poetry has also been anthologized in Love in Four Positions (Leaf Press). Pupa (Insomniac Press) is her first book. Visit www.catherinegraham.com
Monday's Poem

© Catherine Graham

Pissenlit

Small series of flowers
make one yellow head.
Ray (ligulate) florets,
florets — strap-shaped.

Cankerwort. Face Clock.
The Irish Daisy.
Pissenlit. Dent-de-lion.
Some names stick.

Habitat happy,
we root open spaces.
Fields, rocky hillsides,
rose gardens. Your place?

With time in the sun
our globe-heads turn wiser.
Thin seeds of old age,
tufts take to the sky —

pappus — parachute —
long slender beak —
give what we know
to the air-splitting breeze.