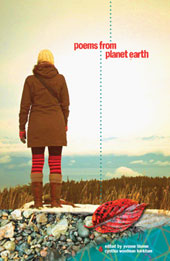 Links
Hi-Res Front Cover
Back Cover
Table of Contents Introduction: Patrick Lane

Poems from Planet Earth upcoming launches:
April 12, 2013, at Planet Earth Poetry, 7:30, The Moka House 1633 Hillside, Victoria.

April 20, 2013, at Joy Kogawa House from 2-4, 1450 West 64th Avenue, Vancouver, BC

May 14, 2013, at Wordstorm
at 7:00. Demeter's Coffee Vault, 499 Wallace St., Nanaimo, BC.


Poetry Lovers:
Please ask for this book at your favourite bookstore. If it is not there you can order from Leaf by clicking below. Or email orders@leafpress.ca.
We will include an invoice
(we pay shipping).

April 2013 | 5.5 x 8.5 | 212 pp | 978-1-926655-58-1 | $20.00
Poems from Planet Earth

edited by Yvonne Blomer and Cynthia Woodman Kerkham
with an introduction by Patrick Lane.
The most fabulous poetry readings
this town has ever seen!
Poems from Planet Earth is a round-up of poems from readers at internationally renowned Planet Earth Poetry in Victoria B.C. — named after P.K. Page's poem "Planet Earth" — "launching pad for the energies of writers and poets established and not."
There are 116 contributors—among them: Jan Zwicky, Patrick Lane, Jay Ruzesky, Alice Major, Kate Braid, Derk Wynand, Eve Joseph, David Zieroth, Patricia Young, John Barton, Lorna Crozier, Sheri-D Wilson, Patrick Friesen, Brian Bartlett, Paul Nelson, Glen Sorestad, Wendy Morton, Brian Brett, Goran Simic, Cathy Ford, Betsy Warland.
Paul Nelson, Seattle, Washington: "I LOVE the Canadian side of Cascadia as it deals with poetry. In Victoria, Vancouver, Nelson and elsewhere there are retired poets constructing Mesostics, discussing Jack Spicer and Robin Blaser and generally being open to more innovative work. This includes the Planet Earth Poetry series. Its wide aesthetic, its open and welcoming environment and its audience. They pay attention and actually buy books. & there's matcha! What else does a poet need? Viva Planet Earth Poetry!"



Yvonne Blomer is the Artistic Director of PEP and author of The Book of Places (Black Moss) and Bicycle Brand Journey (JackPine Press). She is forthcoming in 75 BC Women Poets (Mother Tongue Press) and A Crystal Though Which Love Passes: Glosas for P.K. Page (Buschek Books). Her collection Caged (Palimpsest Press) is forthcoming in 2014.

Cynthia Woodman Kerkham has won the Federation of B.C. Writers Literary Writes Competition and the Malahat Review's Open Season Award for poetry. In 2012, her poem "In Praise of Mushrooms" was selected for B.C.'s Poetry in Transit. Good Holding Ground, her debut collection of poems, was published in 2011 by Palimpsest Press.

Cover design by Rhonda Ganz
photo by Chris Hancock Donaldson (chrishancockdonaldson.com )
Rocks and leaf from a photo by Savannah Featherstone