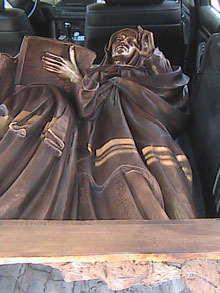 St. Anne reading while lying in the backseat of a car (from Michael Mirolla's home village in Italy).


© 2013 Michael Mirolla

On Coming to the End of M. Proust

Towards the final pages of Le temps retrouvé,
my father stands scarecrow to the wind,
purblind, ragged, duct-taped walking stick impaled
quivering in the ground beside him,
and leans his quasi centenarian foot
on the head of the pitch-fork. In slow motion,
the rusty tines slide into the stitch of earth,
to prise open its rich, constricted smile,
to dredge a chain of rictal memories.

In the canting afternoon, sky in patches
behind him, he feels the old burdens lift
for a moment, raising him up to where
the sod, unable to get a firm enough hold,
and lacking the reach to pull him back down,
is left to nip idly at his mud-packed heels.
Easing the fork once more into the heart
of friable loam, he escapes yet again
to await the turning of some final leaf.



Michael Mirolla's publications include a punk-inspired novella, The Ballad of Martin B.; three novels: Berlin (a Bressani Prize winner and recently translated into Latvian); The Facility, which features among other things a string of cloned Mussolinis; and The Giulio Metaphysics III, a novel/linked short story collection wherein a character named "Giulio" battles for freedom from his own creator; two short story collections: The Formal Logic of Emotion (translated into Italian as La logica formale delle emozioni) and Hothouse Loves & Other Tales; and three collections of poetry: Light and Time, the English-Italian bilingual Interstellar Distances – Distanze Interstellari, and the just published The House on 14th Avenue. A short story collection, Lessons In Relationship Dyads, is scheduled with Red Hen Press in the U.S. His short story, "A Theory of Discontinuous Existence," was selected for The Journey Prize Anthology, while another short story, "The Sand Flea," was nominated for the US Pushcart Prize.

"On Coming to the End of M. Proust" is from The House on 14th Avenue, published by Signature Editions in 2013.
Click here for the Signature Editions website.
And here for the Guernica Editions web page.
---