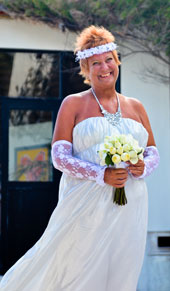 Jude Neale is a Canadian poet living on Bowen Island off of Vancouver. Her writing has been published frequently in journals, online magazines, and anthologies. Her book , Only the Fallen Can See (Leaf press) was published in 2011. Her next collection, A Quiet Coming of Light, is coming from Leaf in 2014.

She was shortlisted this year for the Gregory O'Donoghue International Poetry Prize (Ireland), the 2012 International Poetic Republic Poetry Prize (U.K), and nominated for the Canadian ReLit Award, a national body that celebrates the best books coming from independent presses.
© 2012 Jude Neale

Blue Bowl

I like the way you wrap your hand round my fingers

so that I feel bird-boned and small.

I inhale you deeply
push past
shoals of lethargy.

You circle my shoulders

draw me close to your side
as a ribbon
holds hair.

I slipped a silver ring
into your pocket

intending to settle you down.

But sometimes when wind whips
the tops of the cedars

and the white dog howls on the stair

I scrape my tin spoon
on the blue china bowl

you hold
and tether me here.