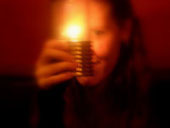 Genevieve MacKay is a working writer and arts administrator living in Vancouver, BC, where she also completed her Master of Arts in the field of Ancient Culture, Religion, and Ethnicity at the University of British Columbia. An avid musician, she plays viola, violin, and viol. Her work has appeared in both Room Magazine and Front Magazine.
© 2012 Genevieve MacKay


The Boat-Girl

Sailor, I know
that you mean what you say
in the moment. But after?
I can't believe it. "Always" and
"you" are strong words
from a man who comes here
and away,
here and away,
in the everlasting rhythm
of the waves. Tomorrow
you'll set your sails, slip off to try
the girl in the next port - you know the one.
I'm sure she has what you want as well.

But here, now, the sun's turning the ocean blue
and gold. Come sit with me and watch.