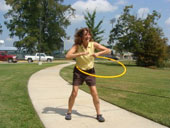 Diane teaches creative writing at University of Arkansas at Monticello. She is the author of Burning Tulips and A New Kind of Music. She has been published in hundreds of literary journals. Her most recent publications include: Marco Polo Arts, Lunch Ticket, New Verse News, Oklahoma Review, and The Rusty Nail.
"Spare Rain" was printed in Mid-America Poetry Review, Spring 2001.
© 2012 Diane Payne

Spare Rain

People ducking beneath wet umbrellas,
avoiding the woman's hand reaching

out from the window ledge. "Spare
change?" she asks to no one in particular.

"Spare rain?" a man laughs running to his car,
giving the woman one last look before crawling

into the driver's seat, while the woman remains
crouched, filling her hand with spare rain.