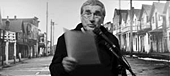 © 2012 David Fraser
David Fraser lives in Nanoose Bay. His poetry has appeared in many journals and anthologies, including Rocksalt, An Anthology of Contemporary B.C. Poetry. He has published four collections of poetry, most recently Caught in My Throat, and a book of poetry and poetics titled On Poetry, with Naomi Beth Wakan. He is a member of the Canadian League of Poets and is currently the Regional Rep for the Islands for the Federation of B.C. Writers. "How the Earth Moves" was previously published in Island Writer, Vol. 9 Issue 2 Winter 2011.
How the Earth Moves

He felt the earth move beneath his feet,
slip, strike, drop away,
not as they met, that moment when
her body passed across the room,
jostled in the crowd around
the kitchen bar, a touch,
her thigh pressed against him
as she leaned toward the rye,
her breath upon his ear
so suddenly, as the ceiling fell away,
left the open sky,
the cold air
and all the stars
to watch them wish.

He felt the earth move,
open, crack, shuffle over,
not like a hand
sliding over skin, but
rough, vacant,
perhaps subducting
deep down into the core
of what they had.
He felt it rumble past him,
then all was silent,
dust picked up by wind,
a flat expanse,
an emptiness.
---