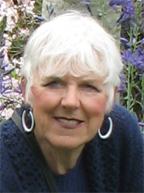 Anne Swannell's poetry has been published in Anglo-Welsh Review, Canadian Literature, The Fiddlehead, The Malahat Review, Prairie Fire, and various other periodicals. She has three books of poetry: Drawing Circles on the Water (self-published, 1989), Mall (Rowan Books, Edmonton, 1991) and Shifting (Ekstasis Editions, 2008). Anne lives in Victoria , where she paints and smashes plates, tea-pots, cups, and saucers to make mosaics.
© 2012 Anne Swannell

Losing You
For Raymond Vickery, 1938 to 2011

It's been two weeks since I went to wake you,
found you not answering in our bed.
Not answering and not there when I touched you.
When I touched you, I knew.
Knew you would never answer.
Never answer, never call.
It was the moment of dread.
Last week, a friend helped
change the recorded answer on our land-phone
and I heard your voice for the last time.
All it took was one click.
I have let my mobile phone run out of time.
(You were the only one I ever used it for.)
Yesterday, I drove to the funeral home to pick up your ashes.
They are in a white cardboard box—surprisingly heavy—
with your name on it
under your side of the bed.
Your belt is still on the bedroom door
where for years it's been swinging out
each time I open it, swinging back to stop it
from closing.
Today three guys from Saanich Municipal Works
showed up to take out the huge Douglas Fir
that's been heaving up our driveway
and which we agreed had to be removed.
What an immense and empty sky it's left
and me, keening after its beloved shape.