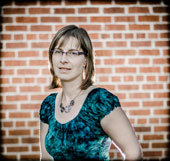 Angeline Schellenberg is a Winnipeg poet, copy editor, journalist, and mother of two. Mentored by Meira Cook in the 2012 Manitoba Writers' Guild mentorship program, Angeline is crafting a poetry collection about autism entitled "You're Not Nisselling." Her poetry has recently been selected by Rhubarb, Rejoice, Geez, and CV2. She blogs at new-ange.blogspot.com and
angelineschellenberg.
wordpress.com. "Trees"
appeared Rhubarb's summer 2012 issue.
© 2012 Angeline Schellenberg


Trees

Everything there is to say
has already been said about trees.
My evergreens never slept.
The Siberian elms (like my ancestors)
would not stay in one place;
they sent defiant seeds searching
for a home on distant lawns and
under foundations, resistant
to tugs. And every time
I tore from my wooden house
in tears, ran for the border
between fields — my shelter-
belt — everyone knows
what the aspens
whispered.