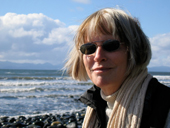 Wendy Donawa lives in Victoria. Her poems have appeared in Caribbean and Canadian journals, in several chapbooks edited by Patrick Lane, and in the anthology Walk Myself Home (Caitlin Press, 2010). Her chapbook Sliding Towards Equinox appeared in 2009 (Rubicon Press) . Her poems received 1st prize in the Victoria Writers Society's 2009 poetry summer competition and 1st prize in the Ontario Poetry Society's 2011 Open Hearts poetry competition.
© 2011 Wendy Donawa

On your surviving an accident in a far province the night of the tsunami

Sleepless again at three o'clock
and back in bed with mint tea
on my peaked knees, quilts
of scudding clouds and patio chairs rattling the night.
Switch on music, hope for Bach, and hear instead
that a tsunami flings its crash and heave
across the world to nibble on our coast,
even tidepools where little fleshy stars
cringe and grasp, then
blue and silent on my screen
words scroll across this washboard province and
its greening slopes, screech and shear of your collision
and my everything races
to absorb its crash and crumple,
to cradle your origami bones.