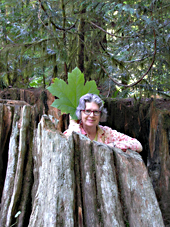 Mary Ann Moore is a Nanaimo poet whose poetry has been produced on the CD, When My Heart is Open, and in chapbooks: The Names of Things (Flying Mermaids Studio) and Those Early Days Hopeful (Leaf Press). Another chapbook, You Are Here, is forthcoming from Leaf Press in the spring of 2012. Mary Ann leads women's writing circles called Writing Life and offers a mentoring program called Writing Home: A Whole Life Practice. www.maryannmoore.ca
© 2011 Mary Ann Moore
Fishing for Mermaids, Mining for Light
At the corner of our cafe table,
between our neighbour's steaming soup
and our quesadillas,
our conversation of poets and the like,
Neruda appears,
solid, like homemade bread, pan integral.

Neruda, the Chilean poet
who descended into mines
to read poetry to workers underground,
spent his Nobel prize money
on mermaids and shells,
wrote odes to honour ordinary things.
We talk, as poets, of time we spend listening,
when pen does not breathe on paper,
our observations stored in pitchy cupboards
to be obliged when they are ready.
Rarely see the server, that seems to be okay.
The quesadillas are tasty,
Neruda is near,
as we bemoan the days
when nothing seems to happen.