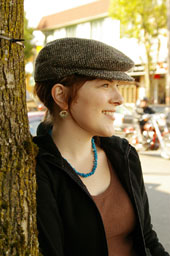 Taryn Hubbard is a freelance writer in the Metro Vancouver area. Her fiction has been featured in such publications as subTERRAIN and One Cool Word Magazine. She was a featured poet in the Antigonish Review's The Poet Grow-Op last May. She runs a personal blog at www.tarynhubbard.blogspot.com and a book review website at http://bookflapper.wordpress.com.
© 2009 Taryn Hubbard


A Fondness for Adventure

You hit the forest fire with
bundles of Sunday newspapers
underneath your arms
stacked like cedar logs. The
fire calls your name and
you can't help but follow
its voice. This is the climax
to your fifty day walk around B.C.
Your soles have gone smooth
and your arches flat. The
walk to out-smart your
forgotten thoughts
rattles from your pack
to scare any bear or
wandering man that might
come too close.

You hit the forest fire and
hear screams of travellers
in the flickers and embers
that kiss your shoulders.
You grab the papers and
one by one throw in all
the stories you've read from
the past year. New school
openings, the mayor's latest
objectives, a murder down the
street, it's all feeding the fire now.

The smoke runs through
your hair and you
try to catch it with
your fingers but it's
too fast. You're circled.
This is the end of your
fifty day walk. This
is the end of your
traveller's walks.
You inhale the smoke
and exhale freedom.