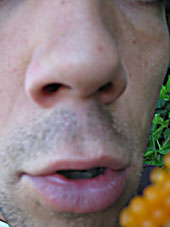 Ryan May is unsure of what he is and what he likes to do. In the many places he travels he finds himself both lost and found ... transfixed and in deep awe of the great mystery.
© 2009 Ryan May
Star Rising

For seven stretched cycles
over a liquid salt body, blue and deep
emptied hearts and spun bellies
cold,
as rattling teeth and chattering jaws
one feather two.

One up to a journey
outwards and public
by shine and fly
to the other inwards,
private
to shrine and flow
home to
one song and dance across the spectator stage ignited by
alone
as clear blood,
run freely across the old dirty windows.

Now creaking,
open the shutters to let in the night,
warm feel-folds
in a flood of dreams and the clutched faithful oracle,
-under the pillow lies hope.

Somewhere found out
in the electric snake pit circus morning
the same yellow finds you
so can you please? receive
my humble messages born on sun dance wings:
Know lady, friend, spirit match, dearest
each morning and night
through bouts of love and hate
calm and agony
birth and death
rebirth and over
forever
two lips that once tasted the delicate embrace of yours have risen
pressing kisses
to the soft eastern glowing skies
and dying fading western haze
prayer laden
that a heart be filled with you, for you, by you
and me
rising.