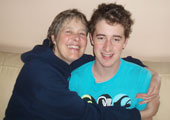 Joanne Ellison is a teacher and writer who lives with her husband and her son in Edmonton, Alberta. She is so excited to be teaching for the next two years in Ghana, Africa. Her work has been published previously by Rubicon Press and event magazine.
© 2009 Joanne Ellison

Haunting


Two suitcases, battered but serviceable
(that's us) stuffed to the barely gripping zippers
with stuff, belted tight around the middle.
So we leave to live two years in Africa.
And you (newly and rumbustiously) adult
can't wait to heft us parents to the plane,
re-decorate the house with giant screens,
invite your friends to cheer the old bags' trip.
But look how thoughtfully we leave ourselves
with you, your father's torso in the soft imprint
of his favorite couch, my thumb smudge on a door,
our books waiting on the night-stand to be read.
Microscopic pieces of silvery dust,
we settle on your lashes as you sleep,
everywhere in daily touch with you.
And we all dreamed leaving would be easy.