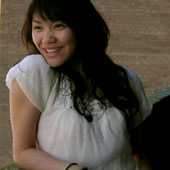 Gillian Sze was born and raised in Winnipeg, Manitoba. Her poetry has appeared in such venues as CV2, Prairie Fire, pax americana (U.S.), Crannóg (Ireland), Cha: An Asian Literary Journal (Hong Kong), and as a featured "Parliamentary Poem of The Week" selection. She is also the author of two chapbooks, This is the Colour I Love You Best (2007) and A Tender Invention (2008). She has an MA in Creative Writing from Concordia and resides in Toronto.
"Coffee Talk" is from her latest collection of poetry, Fish Bones (DC Books, 2009).
© 2009 Gillian Sze

Coffee Talk

We left your mother's,
cut through the schoolyard
where boys in black hoodies congregated,
looking innocent,
staring at their feet in the snow.

Last night's fight echoed
in the morning bareness:
the cold stone table,
two bicycles abandoned against the fence,
a black garbage bag whipped by the wind,
the road stencilled with tire tracks,
a white target spray-painted on the concrete wall.
In the middle of the street I peeked over at you,
my sight fitting only the brim of your blue wool cap,
my hands in little-kid gloves cupping my half-empty coffee.
My only dialogue — a request for sugar and cream —
collected in a Styrofoam cup.

Reaching the other curb,
I offered you a sip,
my coffee, an olive branch—
only learning then
how words can run out
so early in the morning.