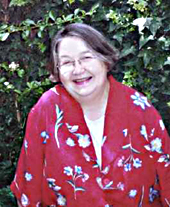 Myrna Garanis is a poet in Edmonton, where a beehive of poetry activity is ongoing. Her most recent credits include a piece in current issue of Contemporary Verse 2 and another upcoming in Room of One's Own. It was the first prize winner in their annual poetry contest.
© 2007 Myrna Garanis

last drunk at the party

January hangs on and on, the guest
who won't go home, wears out
his not-so-welcome
before the first week's through.

Are we too harsh?
never giving January due,
rushing him off for fear he'll soil
the carpet. Do we forget
there's loss involved

and rescue many months away.
No toeholds on the clammy walls
of this cold hole we've fallen in.
So little light, so many times,
we make a start, land back
where we began, mewling kittens
in a sack thrown in.

Optimists send down candles and a book.
Make the best of it, they chant
from their spot not near the rim.
Our only January joy: to watch
the cribbing crumble as they spill
head first.