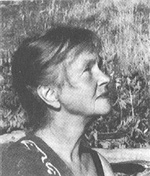 Mildred Tremblay has won many awards for her writing, including the League of Canadian Poets Award, The Arc National Poetry Award, the Orillia Award for humour, and the Vancouver International Writers Festival Award for poetry. Oolichan Books has published her collection of short fiction, Dark Forms Gliding, and two collections of poetry, Old Woman Comes out of Her Cave and The Thing about Dying.
© 2007 Mildred Tremblay
The Meat Store
The man at the back of the store.
His stained apron. His cleaver descending.
Red slippery slabs on his table.
Sometimes there are bodies of chickens.
Naked legs drawn up
like babies at bathtime.
A special knife for hen hearts.
Digs them out. Small spoons of liver.
I have come to buy happy chicken.
A chicken who grew up in a farmyard.
Knew roosters. Rolled reckless
in dust baths. Pecked at real bugs.
I pick up a package of chicken
the pale purple rose pink flesh,
the pimpled skin, its last goosebumps.
Is this the happy chicken? I ask.