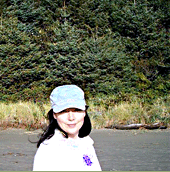 Margaret Doyle graduated from the University of Victoria Phoenix Theatre in 1990 and worked for many years writing and directing in theatre. Since becoming a mother, Margaret has written two plays and produced a one-act play of poems called "Winter Variations" in 1998. She works at the University of Victoria and tries to find time to work on a new play and finish her first chapbook tentatively titled "The Invisible Trousseau."
© 2007 Margaret Doyle

Fire Rock
You study me--
the contours of my body
the way my fingertips
splay and clench against
the white hotel sheet—
Or
is it my igneous heart
you watch?
The calculations
of history, heat,
depth
there in your eyes—
uncertain of your distance
to my fire.