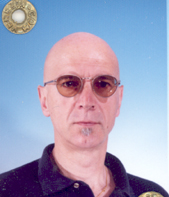 Davide Trame is an Italian teacher of English, born and living in Venice-Italy, writing poems exclusively in English since 1993; they have been published in around two hundred literary magazines since 1999, in U.K, U.S. and elsewhere. Recently in Poetry New Zealand, New Contrast (South Africa). Nimrod (U.S.) and Prague Literary Review. His poetry collection as an e-book was published by www.gattopublishing.com in 2006.
© 2007 Davide Trame
De Chirico
Melancholy of an autumn afternoon.
In Venice it was the weakening, fading red in the air
of late October, the grey stones of the square
slowly absorbing the sky's marrow
and dissolving it among
stamping feet and children's cries,
one of my first memories I would later
associate with melancholy.
One with the hue of the air on sandbars
bathed in the stillness of the Adriatic damp
or on one of its beaches on a sultry late summer day
when Dirk Bogarde's make-up liquefied
and streamed down his cheeks,
weak fingers pointing at the blonde boy
on the receding water and sky.
But melancholy has nothing to do really
with the paintings I am looking at now,
with the ivory-white and Mediterranean orange of the walls
and the neat, polished mannequins' blank stare
on the tight sheets of shadows and hushing sunlight
under an Augustan full sky
in which your eyes' tongue would like to lie down,
maybe melancholy here means just feeling small,
lost in gazing at a sail transiting behind a wall,
a luminous canvas you would enter
for a moment, becoming a lit dot, an ember
enduring the fiery silence,
your skin and countenance
so hot and present now
and only passing.