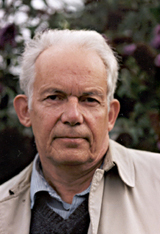 Allan Brown was born in Victoria and presently lives in Powell River, BC,
where he continues to write in the intervals between house and garden work. His poetry has been published in various Canadian forums since 1962 and is partly collected in 19 books and chapbooks. His work has appeared on the Monday Poem site for the last three years.
© 2007 Allan Brown
Intervals
One thing leads to another and a sort
of shape returns; not much, but still a way
of keeping in touch;
absence remarking
presence as the hesitant, remembered
shaping of young pine, trickle of sunlight;
and poem neither act nor choosing,
but the image of that choice.