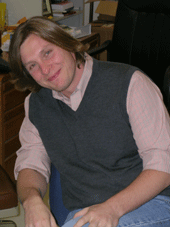 Photo by Liz Cone
Adam Penna's poems have appeared in magazines and journals, including Abbey, Bellowing Ark, Cimarron Review and Verse Daily. He teaches at Suffolk County Community College and lives in East Moriches, NY with his wife. He is the editor of Best Poem.
Link: Best Poem
© 2007 Adam Penna
10

The truth is, Genji,
I don't want much.
I think I read somewhere
that all the world is a gift
to the man whose wants
are small. Let me
be microscopic then.
My wants proportional.
I also read
the smaller a man gets,
the stronger he gets, too.
If I were an ant, I would
be strong enough
to carry the whole world on my back.
And small enough to be buried
wherever I drop.
"'10' is from a sequence of poems I'm calling, for now, 'Lyrics to Genji.' Genji, of course, is my imaginary friend. These poems were born after a bout of writing rather elegiac poems and desiring a more whimsical way of addressing serious subjects. Section "3" from the sequence is forthcoming in Glass: A Journal of Poetry."
---