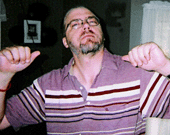 Tom Reynolds is a mental health survivor, a 46-year-old gone-back-to-university student in Windsor Ontario. "I have more ambition than I've had publications, more expenses than I have income, and more optimism than I can possibly justify from the facts." He has won the Canadian National One-Act Playwriting Competition and has had poetry published in The Windsor Star, Canadian Stories, Prairie Journal, and Vintage '96. His short stories are published in Pottersfield Portfolio and Indelible. He has a degree in Theology.

© 2006 Tom Reynolds
from travelogue
The cool summer grasses
retain her outline
where she has lain
beside him.
He leans over
and kisses the cool grass
that bore her weight
while she
a little ways away
smiles
and fingers the hem
of her white sun dress
feeling the sun
a continuation of his warmth
the breeze
tickling her skin like his breath.
He loves to lie
back on the grass
she loves to stand
a little ways away
know
she is being watched
while she looks out over
the sweep of green hills
there is nothing so good
she thinks
there is nothing so good as love.