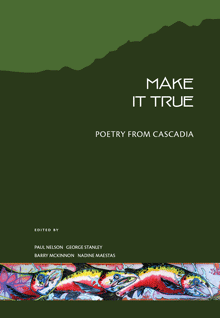 Hi-Res Front Cover
Cover Spread
Copyright and Table of Contents
Introduction
The Artist: The cover image is a photograph of a Nanaimo street mural called Salmon Run, by Vancouver artist Justin Kaczmarek, working with fellow artists Cadence Warner, Logan Ford, Tyler Sexsmith, and Jeanne Ironside. Justin's work lives online at www.facebook.com/
keb35designs/photos_albums
Poetry Lovers:
Please ask for this book at your favourite bookstore. If it is not there you can order from Leaf by clicking below.
Shipping is free for retail customers.
Paypal allows for payment by Visa (no Paypal account required). Or email poetry@leafpress.ca
and we will incude an invoice with your order.


6 x 9 inches | 350 pp | 978-1-926655-81-9 | $30.00 CAD
Make It True: Poetry from Cascadia
Edited by Paul Nelson
with George Stanley, Barry McKinnon and Nadine Maestas
Make It True is a collection from poets writing from Cascadia, the bioregion lying west of the continental divide and spanning from Mt. Logan in Canada to the north and Cape Mendocino in California to the south. An attempt to deepen the sense of place. A call to inhabit it as if our lives and livelihoods depended on it. An attempt to resuscitate the poetry culture from the trance cast by the pop/consumer/industry-generated culture—an anti-culture which, as Edward Abbey understood, serves to consume everything, including the biosphere: "Growth for the sake of growth is the ideology of the cancer cell." (See the full introduction here)
Paul Nelson: "The best of these poems have an exactness of naming and imagery, the light of the mind Diane di Prima recognized as intellectus along with the wildness of the mind Charles Olson would suggest was a use of speech at its least careless and least logical. They sing, or they baffle. They inspire and/or they reveal. They are among the best poets practicing here in this place today, as best we could gather as a starting point for discussion and for the effort to remember (or imagine) what it is to BE somewhere and be fully present. To live here as if we again venerated this place and all its marvelous interconnected systems.
George Stanley: "Reading over these poems, I think younger poets in particular may be moving past irony—past writing that conveys no more than a cynical, tongue-in-cheek, or superior attitude—and writing more straightforwardly about the realities and conditions they believe need to be addressed in this world."
Barry McKinnon: "If the word 'subject' is still in the post-modern lexicon, I believe the poet's subject is time—and that language discloses the actualities therein. Emotion is the poem's fact. Herein, then, the Cascadia poets in the reality of their time, their actualities, writing in the necessary task of what language and emotion reveals."
Make It True was launched at the 2015 Cascadia Poetry Festival, which was held in Nanaimo, B.C.