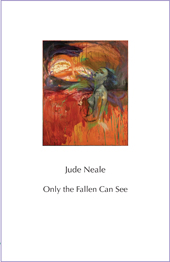 Hi-Res Front Cover
Back Cover
Introduction
by Dr. Phillip W. Long
Sample Poem: Page 17
Sample Poem: Page 20

Author's Website
www.judeneale.ca
Retail and wholesale customers please click here for information.
Poetry Lovers:
Please ask for this book at your favourite bookstore. If it is not there you can order from Leaf by clicking below. Or email orders@leafpress.ca.
We will include an invoice
(we pay shipping).

OR
Click below to download pdf version of this book: $5.00.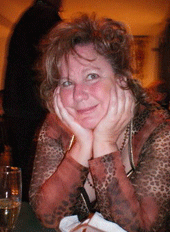 April 2011 | 5.5 x 8.5 | 60 pp | 978-1-926655-24-6 | $15.95
Only the Fallen Can See
by Jude Neale
A remarkable book of poems which explore and chronicle the compelling journey of a mother struggling with bipolar illness.
"These poems follow a fractured trajectory that celebrates
the triumph of the human spirit against despair. Beautiful,
poignant, raw and powerful, Jude's poetry is of a woman
unbroken by her illness." Phillip W. Long MD
" For anyone who has been lost in a fog of drugged numbness or who has simply been dispirited, Jude Neale's pertinent imagery offers comfort and sustenance."
Audrey Grescoe, author of Giants, Colossal Trees
of Pacific North America (Roberts Rinehart, 1997).
Jude Neale's first book of poetry is called The Perfect Word Collapses. She has been featured frequently with Ascent Aspirations Magazine and was recently awarded an honourable mention for her short story submission in the 2010 winter edition.
When Jude isn't writing she is giving vocal concerts, where she enjoys sharing her rich mezzo-soprano voice with others. She lives with her partner, three cats, and one dog on a small island near Vancouver, Canada.
Link: Phillip W. Long, MD, DPH FRCP www.mentalhealth.com
Link: Cover Art "Woman in Red Surf" by Mark Lindquist www.lindquistart.com
Listen to an interview with Jude Neale on Vancouver Co-op Radio's World Poetry Café - El Mundo de la Poesia with Ariadne Sawyer and Alejandro Mujica-Olea. November 30, 2010.
Reviews

"Humour—that sure sign that some kind of healing has happened" by Daniela Elza, writing on the web at Strange Places. [Click]
"...while mental illness is part of Neale's life, it doesn't define her. She's a high-achieving professional who sees her mental illness not as an affliction or burden but as a gift ... 'I'm so tired of mental illness being folded up and never taken into the air to be looked at,' she says." Martha Perkins, writing in the Bowen Island Review