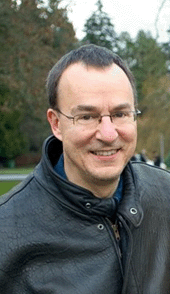 A long time resident of Vancouver, Robert Gore moved to Los Angeles in September 2005 where he is the Visual Arts Librarian at UCLA. His work has been published in Event, Canadian Literature, Arc, Grain, Contemporary Verse 2, Prism International, and other magazines. Frog Hollow Press published his first chapbook, The Code Between Us, in 2002.
© 2007 Robert Gore
Raven in the Palm Tree

Parrots are not his cup of tea
and his reputation has not preceded him
so like a politician who has seen better days
he makes the rounds of coffee shops.
Black feathers are his calling card, he tips
a good story when the waitress brings the cheque.
The black beads of his eyes follow traffic
on the boulevards, on a good day
he can pick up work as an extra,
pretending to be a crow;
sometimes when a homeless person rattles by
he cocks an ear, a cart of many troubles
like his life here in this city of relentless sun,
rain in his inner ear like a lost companion.